Compare Primary Care Doctors' Offices
Finding the right provider in Massachusetts is easy. Use this website to compare primary care doctors' offices based on how well they care for their patients.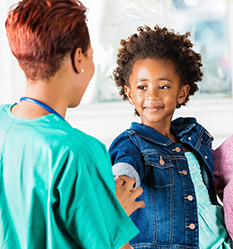 What's New...
(June 2020) This site includes new data about the quality of Massachusetts health care, including 15 HEDIS/clinical quality measures. The Center for Health Information and Analysis (CHIA) funded this project.
This site also includes the results from MHQP's 2019 Statewide Patient Experience Survey. The award-winning performances by the recipients of MHQP's annual Patient Experience Awards are identified by the program's star logo.
Click here for a list of award winners.
Thoughts about quality care…
"The doctor is the medical expert, but you're the expert about you and your child. When doctors, patients, and parents work together, it can result in the best health care for all."
-Lester Hartman, M.D., Quality Improvement Director at Westwood-Mansfield Pediatric Associates